Hello and welcome, I'm Cindy! Blogging started when I joined the 2012 NYC Marathon Alzheimer's Association Team Run to Remember in June 2012.
Running started a lot longer ago. I have vivid memories of being forced to run a mile in grade school for the Presidential Fitness tests. I would generally be one of the last ones in the class to finish. How embarrassing, right? I mean you're no more than eight years old and you're timed on a mile, the number of sit-ups, and pull-ups you can do. Needless to say, I was never a good athlete growing up (and probably still not). I took a summer of tennis lessons, one month of ballet and tap lessons (after my parents bought me all my new dance clothes), and little league softball. Softball stuck with me a little while even though I was scared about catching the ball for the longest time.
In middle school, a girl in the grade below me said during one of those field day events that I was fast and should consider sprinting. Somehow that comment stuck with me. I never considered myself fast by any means, but I decided to give it a try. When high school started, I ran indoor track and field in the winter and played softball in the spring. I was so bad at softball, my coach preferred I keep the book instead of playing me. As as result, I was a two season athlete on the track and field teams after sophomore year. Sprinting and throwing were my events, though I was really not that good at either. When I went to weigh-in the shotput at track meets, I had officials ask me pretty much every time if I was big enough to be a thrower. Well, I wasn't big enough to be a thrower or small enough to be a fast sprinter, but I stuck with it and finally made Varsity as a senior in high school.
Somehow, I was kidding myself and the at-the-time underdeveloped track and field program at my alma mater meant that I could continue the sport in college at a D3 level. We didn't even have a track to practice on, ran hill workouts up and down a block with rush hour traffic in a congested city, measured our sprints from tree to tree, and practiced our throws in a patch of grass behind the academic buildings while trying to hide the dents in the ground from campus police. After two years of the sport in college, I decided other activities and academic pursuits were more important.
Then I graduated from college and realized that if I am going to stay fit and keep off "sitting at a desk job" weight, I would need to run more than 200-meters at a time. With casual runs here and there, an occasional 5K race and the annual JPMorgan Chase Corporate Challenge, I did as best as I could. As I heard about and cheered for family and friends running half and full marathons, I would play with the thought of adding one of those to my bucket list.
It wasn't until my grandmother (Nin-nin, as we called her in Chinese for paternal grandmother) passed away in March 2011 did I become serious. Nin-nin immigrated to New York when she was pregnant with my dad and settled in a new country with no family nearby. Without going into too much family history, my grandmother was strong and worked hard to be able to have the rest of her family joined her in New York. That is how at least one side of my family's footprint in New York started. There were a lot of childhood memories with my grandparents, family trips, ice cream trucks, bowling, all the holidays, and celebrating our birthdays together to name a few.
Nin-nin suffered from Alzheimer's in the later years of her life. When she passed away, I was devastated. Her funeral services were the weekend of the 2011 NYC Half Marathon and that day I said (out loud or not, that's up for debate) that I would run a NYC Half in her memory and fundraise for the Alzheimer's Association. Through further communication with the NYC Chapter of the Alzheimer's Association, I eventually applied to be on the 2012 NYC Marathon team when I learned that the 2012 race was on Nin-nin's birthday. How fitting to run a race in her city on her birthday and of course, to me it was fate, never mind how I was going to accomplish the feat of turning a casual 5K here and there into 26.2 miles. I was dedicated though and in June 2012, I started my training with my teammates.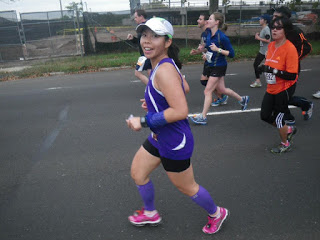 As I started training, I also started blogging initially as a way to track my progress and memories. I wanted to remember the experience because to me this was supposed to be a one-time thing, however, as each week went by and the more donations I received from family and friends, I realized my blog was also a way for anyone who wanted to, to virtually follow me on my journey. My initial blog was a weekly update on my runs, pictures with the team, and of course, a memory a week of my grandmother. When Superstorm Sandy hit and the NYC Marathon was cancelled, I was devastated. Thank goodness for my family, friends, and teammates. I quickly signed up for the Miami Marathon in January 2013 with a group of teammates and later entered the lottery for the Philadelphia Marathon that was two weeks later.
This "one-time" thing became something I loved and couldn't imagine not doing. Thank you to my Nin-nin for the push because every run I do, I do it for you. Thank you for my teammates because hands down, they are the best teammates I will ever have. And thank you to all of my family, friends, especially, Josh for all of the support and putting up with my crazy running schedules and eating frenzies!
I decided to preserve my original blog because to me, the 2012 NYCM is one-of-a-kind memory and start this one in December 2012 which will hopefully chronicle my running adventures but also a place for me share other things I enjoy including eating, shopping, traveling, and of course, taking pictures. Check back never, once, twice, or as often as you'd like you! I hope you enjoy reading it as much as I enjoy writing it!